Our World Missionaries
The Woods Free Methodist Church is honored to prayerfully and financially support these three missionary families. If you'd like learn more about the Free Methodist World Missions, go to
http://fmcusa.org/fmwm
.

Matt & Christine Sauder
Philippines
The Lord gave Matt and Christine Sauder a specific call: to reach university students for Christ. Matt and Christine live in metro Manila where they are beginning a campus hospitality ministry among the university students. They are currently engaged in culture and language acquisition so they can build deeper, more meaningful relationships. They love the Lord, they love people, and they are thankful for the opportunity to share the Lord with these young adults. The Sauders feel privileged to be called to follow the Lord in the Philippines.
Birthdays:
Matt – July 22 Christine – December 17
Chloe –
Libby –
Abbie –
Anniversary:
August 11
______________________________________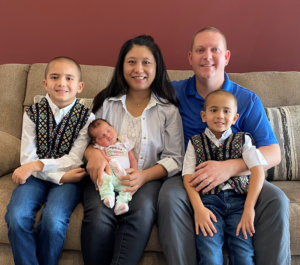 Seth & Hlawn Hlawn Van Tifflin
Asia
Seth and Hlawn Hlawn Van Tifflin reside in Chiang Mai, Thailand, with their two young sons. Seth serves as the events and new connection coordinator for FMWM-Asia and as executive director of In Better Hands (an affiliate ministry partner of the FMC-USA). In Better Hands was established to care for children at high risk of being trafficked. Hlawn Hlawn serves as the Myanmar Country director for In Better Hands. Both Seth and Hlawn Hlawn also are studying the Thai language. For further information, please visit inbetterhands.org
Birthdays:
Seth – September 3
Hlawn Hlawn – November 4
Jason – October 9, 2013
Noah – December 1, 2016
Anniversary:
January 23
Contact Seth and Hlawn Hlawn:
Web:
___________________________________________

The church sponsors two children. For $38 a month you can help us sponsor these children and offer hope for a brighter future. Sign up on the bulletin board to help with one or both for a month (or more.)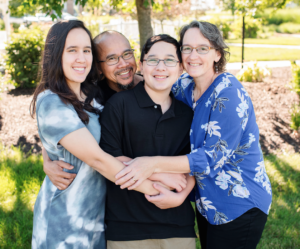 David & Sarah Clemente
Taiwan & Southeast Asia
David and Sarah Clementes' vision is to provide support to Free Methodist pastors located in Asia, so they can be empowered to do church ministry and become dynamic leaders in their local communities. David is an adjunct professor at Holy Light Theological Seminary (Taiwan) and Light and Life Bible College (Philippines) and teaches missions and theology courses. He serves as the Asia area assistant for ministry development and travels to other countries to lead weeklong seminars and short training modules. Sarah gives active support to David's ministry and administrative assistance to our Taiwan FMWM personnel.
Read more about the Clemente's here:
General Prayer
• wisdom and discernment as David teaches and leads different seminars around Asia
• travel safety
• FM churches in Asia as they continue to expand their vision for cross-cultural ministry and become vibrant witnesses to their local communities
• national church leaders from all our Asian countries
• Carmen and Jacob's physical, emotional and spiritual growth
Birthdays
David – July 13
Sarah – June 5
Carmen – November 18, 2001
Jacob – January 6, 2005
Anniversary
December 9